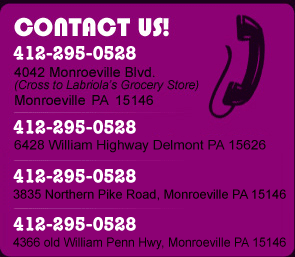 Stress or Anxiety?
It's no secret that we live in a hectic world full of stress.  Unfortunately, today, the medical community as a whole believes that stress is one of the main causes of early aging and deterioration of health.  Not to mention stress has been linked to hypertension, a medical condition that plagues millions of people world-wide.
With all the information available today about the damaging effects of uncontrolled stress, it's imperative that we take our stress reduction plan seriously.
Especially when you consider this, experts estimate that "90% of all illness and disease is somehow tied to stress".
The fact remains that we live in a stress filled world.  Our lives are more fast paced than ever before and it would be nearly impossible to completely eliminate the pressure and anxiety that goes hand-and-hand with living today

But we need to do something so that stress does not have its way with us and that's where massage therapy comes in.
" Fortunately, massage therapy is a safe, enjoyable and a proven way to reduce stress in your life and its negative effects. "
In addition to all the physical benefits massage therapy offers, its also a nice soothing way to reduce stress and experience that often needed relaxation.  And because its 100% natural, massage therapy does not have any significant side effects.
" There is no doubt that massage therapy is a powerful ally to keeping you stress free and healthy. "
The Japanese Institute specializes in using massage therapy to significantly reduce your stress. Our approach to addressing your stress through massage therapy is proven.
"I had no idea a massage could make me feel so good and actually create so much relaxation for me.  ITS REMARKABLE what you all have done for me!!!"  
Sarah K. (IT Industry, 43, Arlington, VA)
"In my profession, stress is an everyday fact of life. That stress has caused me to suffer serious neck, shoulder and back pain and tension. However, after just one East West Massage, my stress levels have been dramatically reduced and the prior daily neck and shoulder pain has been erased for over 1 week and still counting!"
Will C.. (Business Owner, 37, Reston, VA)
To significantly reduce your stress and get back to feeling great again schedule an East West Massage or Royal East West Massage.  (click on name of massage to learn more.)
Schedule Online or call 412-372-2223. These are the best two massages for us to target and relieve your headaches or neck pain.